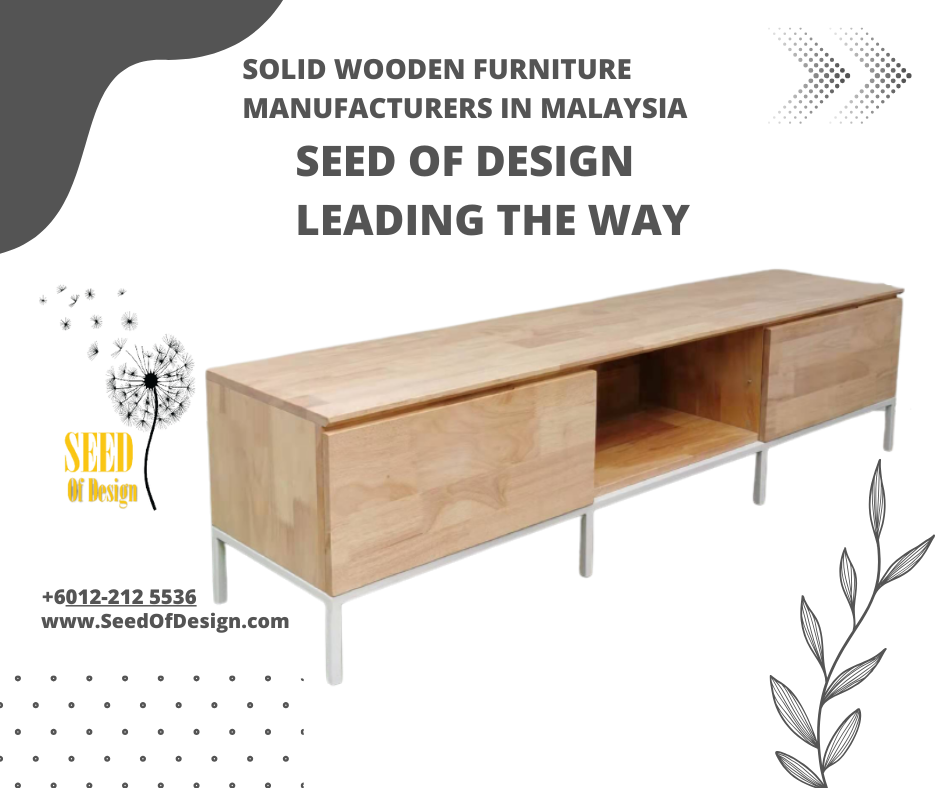 Solid Wooden Furniture Manufacturers in Malaysia: Seed of Design Leading the Way
In the heart of Malaysia's burgeoning furniture industry, a name has emerged as a beacon of craftsmanship, quality, and innovation: Seed of Design (SOD). With nearly a decade of dedicated service, SOD stands tall as one of the leading solid wooden furniture manufacturers in Malaysia. Their journey has been one of passion, commitment, and a relentless pursuit of excellence, bringing unparalleled value to every client they serve. As the furniture industry in Malaysia experiences remarkable growth, SOD has played a pivotal role, not only by crafting exquisite pieces but also by contributing to the industry's rise through their dedication to quality and customer satisfaction.
A Legacy of Craftsmanship and Quality
At the heart of Seed of Design's success lies a legacy of craftsmanship that spans generations. The artisans at SOD are not merely furniture makers; they are custodians of tradition, preserving the artistry of woodworking techniques passed down through time. Each piece of furniture that leaves the SOD workshop bears the mark of these skilled hands, reflecting meticulous attention to detail and a deep understanding of the intrinsic beauty of solid wood. SOD's commitment to quality is unwavering, ensuring that every creation is a masterpiece, built to stand the test of time.
Dedication to Customer Value
Seed of Design's journey in the furniture industry has always been guided by a customer-centric approach. For nearly a decade, they have been dedicated to bringing exceptional value to each and every client they deal with. This dedication manifests in their commitment to understanding the unique needs and preferences of their customers. From personalized consultations to bespoke solutions, SOD ensures that every piece of furniture not only meets but exceeds the expectations of their clients. Their attention to customer value has earned them the trust and loyalty of a diverse clientele.
Fueling the Growth of Malaysian Furniture Industry
The furniture industry in Malaysia has been experiencing tremendous growth, and SOD has been a driving force behind this ascent. One of the key factors contributing to this growth is the unwavering support of Malaysian consumers for locally crafted furniture. Malaysian consumers, recognizing the superior quality and craftsmanship of their homegrown furniture manufacturers, have increasingly chosen Malaysian-made products. SOD, with its dedication to excellence, has played a pivotal role in shaping this preference. By producing high-quality, durable, and aesthetically pleasing solid wooden furniture, SOD has become a trusted choice for consumers, contributing significantly to the growth of the local furniture industry.
Innovation and Adaptability
In an industry as dynamic as furniture manufacturing, innovation and adaptability are paramount. Seed of Design has consistently embraced innovation, integrating modern design sensibilities with traditional craftsmanship. Their ability to stay ahead of trends and offer contemporary designs has set them apart in the competitive market. Moreover, SOD's adaptability to changing customer needs and market demands has ensured their relevance and continued success. By understanding the evolving tastes of their clients, they have been able to craft furniture that resonates with modern lifestyles while maintaining the timeless appeal of solid wood.
Sustainable Practices and Environmental Responsibility
Seed of Design not only prides itself on producing exceptional furniture but also on its commitment to sustainable practices and environmental responsibility. As advocates for responsible sourcing, they ensure that the wood used in their furniture comes from sustainable and responsibly managed forests. By promoting eco-friendly practices, SOD not only contributes to environmental conservation but also offers eco-conscious consumers a guilt-free choice when investing in furniture.
A Bright Future Ahead
As Seed of Design celebrates nearly a decade of excellence, they look toward a future filled with promise and innovation. Their commitment to quality, customer satisfaction, and environmental responsibility continues to be the cornerstone of their success. With the Malaysian furniture industry poised for even greater heights, SOD stands ready to lead the way, setting new standards of excellence and crafting enduring legacies, one piece of furniture at a time.
In a world where quality and craftsmanship define a legacy, Seed of Design is not just a furniture manufacturer; it is a symbol of Malaysian artistry and ingenuity. As they move forward, their dedication to bringing value to every client, their passion for woodworking, and their commitment to sustainable practices ensure that Seed of Design remains a beacon of inspiration in the realm of solid wooden furniture manufacturing in Malaysia.