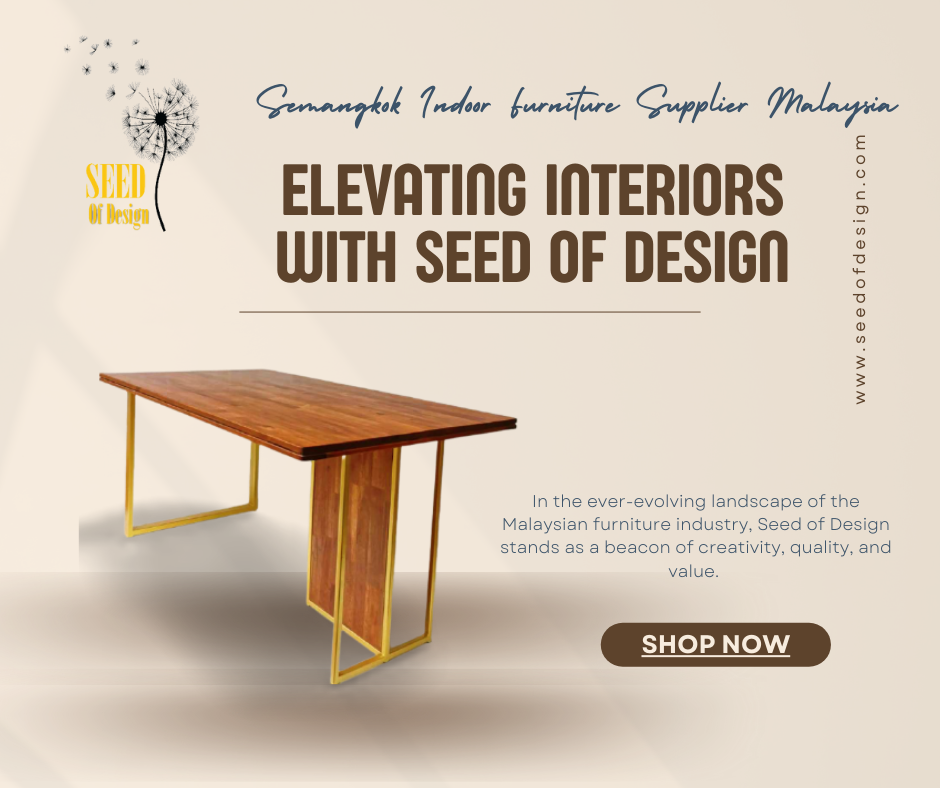 Semangkok Indoor Furniture Supplier Malaysia: Elevating Interiors with Seed of Design
Semangkok Indoor Furniture Supplier Malaysia: Elevating Interiors with Seed of Design
In the heart of Malaysia's vibrant furniture industry, Seed of Design (SOD) emerges as a trailblazer, setting new standards in the realm of indoor furniture. Specializing in Semangkok wood, a material renowned for its timeless elegance and durability, Seed of Design has quickly risen to become the leading indoor furniture manufacturer in Malaysia. With an unwavering commitment to quality, innovation, and customer satisfaction, Seed of Design is now expanding its reach, offering its exquisite furniture line directly to the retail market. What sets them apart is their unique proposition: factory-direct pricing without compromising on craftsmanship, and collaborations with furniture shops and interior designers that bring exceptional value to the furniture industry in Malaysia.
Semangkok Wood: A Timeless Legacy
Semangkok wood, with its rich, warm tones and distinctive grain patterns, has long been cherished for its aesthetic appeal and durability. Traditionally used in Southeast Asian furniture, it exudes a sense of timeless beauty that effortlessly blends tradition with modernity. Seed of Design recognizes the allure of Semangkok wood and has harnessed its potential to create exquisite indoor furniture pieces that grace homes, offices, and commercial spaces with unmatched elegance.
Seed of Design: Where Craftsmanship Meets Innovation
Seed of Design stands at the forefront of the indoor furniture industry in Malaysia. Their commitment to superior craftsmanship and innovative design has elevated them to a position of prominence. Each piece of furniture crafted by Seed of Design is a testament to the skill and dedication of their artisans. The fusion of traditional woodworking techniques with contemporary design sensibilities results in furniture that is not only visually stunning but also functional and durable.
Expanding to the Retail Market: Direct from Factory Pricing
Seed of Design's decision to expand its furniture line to the retail market marks a significant milestone. By offering their products directly to consumers, they eliminate the middleman, allowing customers to access their exceptional indoor furniture at factory-direct prices. This approach ensures affordability without compromising on the quality and elegance that Seed of Design is renowned for. Now, individuals and businesses alike can adorn their spaces with premium Semangkok indoor furniture without breaking the bank.
Collaborations and Partnerships: Enhancing Value in the Furniture Industry
Seed of Design believes in the power of collaboration. By partnering with furniture shops and interior designers across Malaysia, they are not only expanding their reach but also bringing immense value to the furniture industry. These collaborations facilitate seamless access to Seed of Design's exquisite furniture pieces for a wider audience. Interior designers can now offer their clients premium Semangkok indoor furniture, enhancing the aesthetic appeal of their projects. Furniture shops can curate their collections with Seed of Design's products, ensuring that their customers have access to high-quality, elegant furniture choices.
Unparalleled Customer Experience
At Seed of Design, customer satisfaction is paramount. Their commitment to delivering exceptional service is reflected in every interaction. From personalized consultations to efficient delivery and installation services, Seed of Design ensures that their customers have a seamless and delightful experience. Each piece of furniture is crafted with the customer's needs and preferences in mind, resulting in tailor-made solutions that exceed expectations.
A Vision for the Future: Elevating Malaysian Interiors
Seed of Design's foray into the retail market and their collaborative efforts with industry partners are indicative of their vision for the future. They aspire not only to be a leading Semangkok indoor furniture supplier in Malaysia but also to be a driving force behind the transformation of Malaysian interiors. Their dedication to innovation, affordability, and superior quality positions them as a trusted choice for individuals, businesses, and interior designers seeking timeless elegance for their spaces.
In the ever-evolving landscape of the Malaysian furniture industry, Seed of Design stands as a beacon of creativity, quality, and value. Their expansion to the retail market and strategic collaborations promise a future where premium Semangkok indoor furniture is within the reach of all. As they continue to redefine the standards of elegance and craftsmanship, Seed of Design is poised to leave an indelible mark on the Malaysian furniture scene, one exquisite piece of furniture at a time.