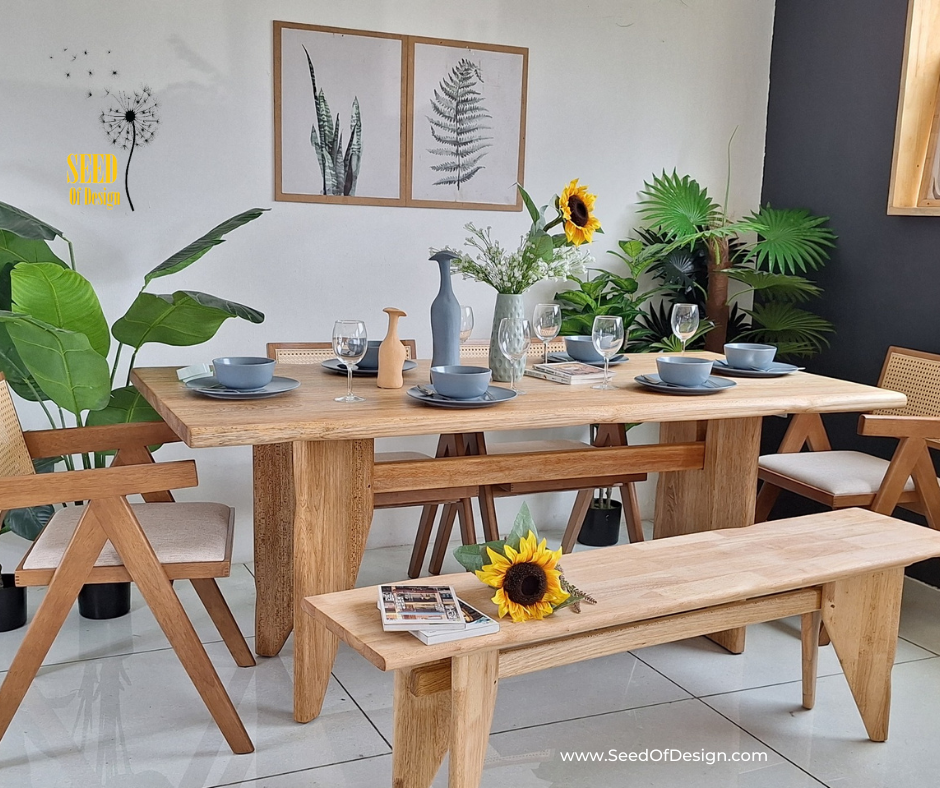 Seed of Design Furniture: Where Craftsmanship Meets Elegance
In the realm of interior design, furniture is more than just functional pieces—it's an embodiment of style, a reflection of individuality, and a testament to exquisite craftsmanship. Seed of Design Furniture, a distinguished name in the industry, has mastered the art of transforming spaces with its unparalleled range of furniture crafted from premium materials like rubber wood, solid wood, Semangkok wood, and much more. With a commitment to excellence, Seed of Design Furniture has become synonymous with elegance and sophistication, adorning both commercial and residential spaces with its exceptional creations.
A Heritage of Craftsmanship
Seed of Design Furniture stands as a testament to the rich heritage of woodworking and craftsmanship in Malaysia. With a legacy rooted in tradition, the artisans at Seed of Design Furniture infuse their creations with time-honored techniques passed down through generations. Every piece of furniture bears the mark of skilled hands, attention to detail, and a passion for perfection. It is this heritage of craftsmanship that sets Seed of Design Furniture apart, making each creation a work of art.
Premium Materials, Timeless Designs
At Seed of Design Furniture, the selection of materials is a meticulous process. The company prides itself on using the finest rubber wood, solid wood, Semangkok wood, and other high-quality materials sourced responsibly from sustainable forests. These materials are then transformed into timeless pieces that exude elegance and charm. From classic designs that stand the test of time to contemporary pieces that redefine modern living, Seed of Design Furniture offers a diverse range of styles to cater to various tastes and preferences.
Bespoke Solutions for Every Project
Seed of Design Furniture understands that every space has its unique personality and requirements. That's why the company welcomes both commercial and residential projects, inviting clients to explore the realm of custom-designed furniture. Whether it's furnishing a boutique hotel, a corporate office, or a cozy home, Seed of Design Furniture offers bespoke solutions that cater to the specific needs and aesthetics of each project. From conceptualization and design to manufacturing and installation, the team at Seed of Design Furniture collaborates closely with clients, ensuring that their visions are brought to life with precision and finesse.
Commercial Excellence, Residential Splendor
Seed of Design Furniture's repertoire includes an impressive array of commercial and residential furniture, each piece meticulously crafted to elevate the ambiance of any space. For commercial projects, the company offers solutions that exude professionalism, sophistication, and functionality. From reception areas to boardrooms, Seed of Design Furniture's commercial furniture pieces leave a lasting impression, creating an environment conducive to success and innovation. In residential settings, the company's furniture transforms houses into homes, adding warmth, character, and a touch of luxury to every room. From statement dining tables to cozy bedroom furniture, Seed of Design Furniture enhances the living experience, making every moment spent at home a cherished memory.
A Commitment to Sustainability
In an age where sustainability is paramount, Seed of Design Furniture takes its responsibility seriously. The company is dedicated to environmentally conscious practices, ensuring that every piece of furniture is not only visually appealing but also environmentally friendly. By embracing sustainable materials and production methods, Seed of Design Furniture contributes to the preservation of nature, offering clients the opportunity to furnish their spaces with a clear conscience.
Experience Elegance with Seed of Design Furniture
For those seeking more than just furniture—for those in pursuit of elegance, sophistication, and individuality—Seed of Design Furniture is the ultimate destination. Each piece from Seed of Design Furniture is not just a purchase; it's an investment in quality, aesthetics, and enduring style. The company's commitment to excellence, coupled with its passion for crafting exquisite furniture, makes Seed of Design Furniture the ideal choice for those who appreciate the finer things in life.
As you embark on the journey of transforming your spaces, let Seed of Design Furniture be your guide. Discover the beauty of premium materials, the allure of timeless designs, and the luxury of bespoke solutions. Experience the elegance that only Seed of Design Furniture can bring to your interiors, and let your spaces tell a story of craftsmanship, sophistication, and enduring beauty. Welcome to a world where every piece of furniture is a masterpiece—welcome to Seed of Design Furniture.