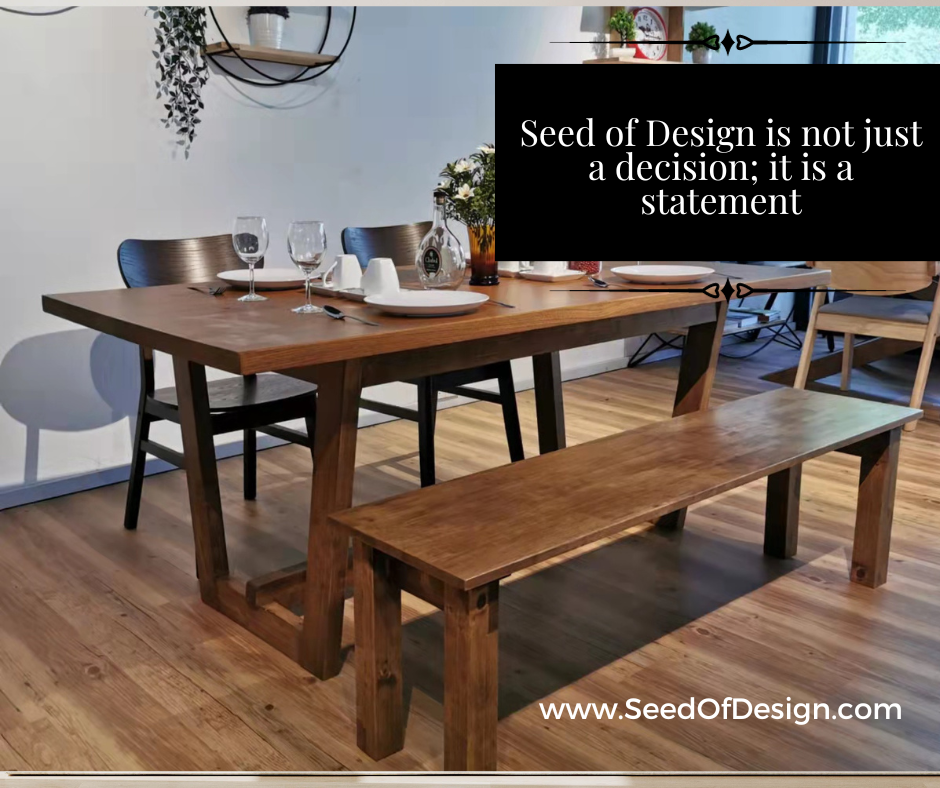 Choosing the Perfect Dining Table: A Seed of Design Comprehensive Guide
Selecting a dining table might initially appear straightforward – find one you like, buy it. However, the process is far more intricate, akin to choosing the right sofa. Your dining table is the centerpiece of your dining room, influencing its ambiance and functionality significantly. To aid you in this decision-making journey, Seed of Design presents six crucial considerations that will simplify the process and lead you to a satisfying choice!
Dining Table Size & Space:
Space is the foremost consideration. A dining room should never feel cluttered or cramped; empty spaces are as vital as filled ones. Each person needs approximately a 2-feet berth for comfortable seating. Additionally, there should be 3 to 4 feet between the table and any wall, allowing chairs to be pulled out without obstructions. Don't overcrowd your space; choose a size that fits snugly, ensuring a seamless flow of traffic.
Height:
Standard dining tables usually measure between 710 to 760 centimeters (28 to 30 inches). This standard height accommodates most needs. However, special considerations, such as accommodating a wheelchair, may necessitate a particular table height. An ideal dining table should offer a comfortable resting place for arms and knees, facilitating activities like dining or working without strain.
Shape:
The shape of your dining table affects both aesthetics and functionality. Round tables tend to seat more people and encourage easier conversation, making them ideal for frequent family meals. Square or rectangular tables, though, are space-efficient and suitable for smaller rooms. Ultimately, the choice between shapes depends on your preferences and the available dining space.
Dining Table Style & Material:
The choice of material significantly impacts your dining table's style and durability. From wood to steel, glass, stone, or marble, the options are vast. Hardwoods, tempered glass, metals, or select plastics ensure a longer lifespan. For a rustic feel, weathered wood tables with natural imperfections offer a farmhouse vibe. On the other hand, glass or marble tops exude modern elegance, adding a sleek touch to your dining space.
Features:
Dining tables often come with additional features like extendable or collapsible table leaves. These features are invaluable for accommodating extra guests during parties. Consider tables with storage options to declutter your dining space, storing placemats, napkins, and other dining accessories efficiently.
In summary, Seed of Design's five key considerations provide a solid foundation for your dining table choice. Deliberate on these points carefully, as investing in a dining table is a significant decision that affects both your living space and your budget. Seed of Design's range of dining tables, crafted with precision and style, awaits your exploration. Make your choice wisely, and let your dining table become a testament to both your taste and your understanding of functional aesthetics.